To celebrate 2 years of my baby Hadithi Hadithi existing. I decided to put together a collection of my favorite short, short stories posted on my social media over the past 2 years. Some of them you may have read, others you have not.
My favorite is No. 54.
Enjoy
1.
My mattress is a road.
The bedsheets are tarmac. An unholy mixture of gravel and concrete. And our bodies are an accident. A full-on head-on collision. Only. Instead of metal ramming into metal, bonnet against bonnet. It is cartilage against bone. Sweetness. A dry finger rubbing against moistness. Wetness. Lick it first you say, gently. Tenderness. Sink in, did you find it? No? Come out, dip in again, slowly this time. Ooooh, that feels good. Stop laughing. You can't. What's that you're feeling? Joyfulness.
2.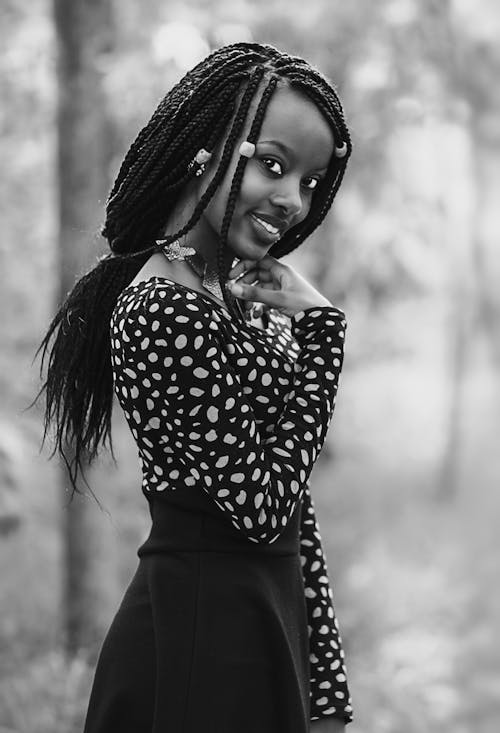 If I love you. You will come over on a Friday, maybe Saturday evening. There's some chicken on the cooker. The house smells like fried onions, with a dash of curry powder. You tell me you love Ugali. The water boils, as I tell you of that time I felt love. You laugh, and for a long moment, I think maybe we should make this arrangement permanent. You eat, there's a slice of avocado on the side of your plate. You love it. You ask me again, why the hell does my chicken taste this sweet. I lie, I put a bit of your smile in it 58 seconds before I switched off the burner. You laugh again. Longer this time.
You are in the shower. You carried your shower gel. My bathroom smells like mint, and huss. The smell of cold rain on hot soil mixed with freshly cut grass.
You ask for a T-shirt. I give you the red one, with a V neckline. Your breasts burst out of that one. You ask for another. Will this one work…the blue one, it has a tear on the side.
You are in my sheets. I play one last song. I join you. The T-shirt magically disappeared. My hand on your tummy, your head on my left hand, and your …. on my chest. You fall asleep quickly to the sounds of Eric Wainaina and the crickets that sleep on my window sill. Goodnight Mariana.
You will wake up early. Refuse my offer for breakfast. You insist you have somewhere to be. You rush out. And As the door closes. You leave my love at the door. Goodbye Mariana.
3.
We went to Naivasha you and I.
I called it a weekend getaway. But it really was a funeral. A time to throw earth at the hole our relationship had become.
But you know me. I believe in miracles and resurrection stories. I thought maybe, in a lakehouse bordered by mountains on one end and flamingos on the other; we could resume our love again.
For a long weekend, it was me trying to fan dying embers and you wishing you could pour ice water over it.
You wanted to sit by the lake all day, reading. We spent the day in a tour van with a bunch of tourists aaaawing at buffaloes licking their asses. Forgive me. In my mind, that was my way of showing love.
Sunday came. You could not get out of there fast enough. On the car ride home, You asked me why I took so many photos of you. I said that I liked your freckles doting over every image in my gallery. I lied.
You and I were ending.
Forgive me then, for trying to capture every spare second I had.
With you
4.
It is 5:30pm on a Friday evening. I'm having one last cocktail before heading home. I send you the usual text. What do you want for supper? You call back, angry. You hate that I only call you on Thursdays, to make plans for Friday. Then I go silent until it's Friday evening. You think you deserve better. No, you know you deserve better. You speak, I listen. You get angry. You wonder why I am not giving you an explanation. There's none to be given! You give me an ultimatum. I have until the end of Saturday to decide if I want you or not. I call you at 4:30 pm, Saturday. I still want you to come over. You will not! Not without me defining who and what we are. You hear the long sigh over the phone. There's nothing to define. We are, as we have always been. Strangers who enjoy each other's bodies from time to time. You hang up on me, swearing you never want to talk to me again. I text you.
Sleep well Mariana. I'll call you on Thursday. You respond with blue ticks.
5.
I tell Mariana she smells like my mother's kitchen in the morning. Right after she's done cooking tea. Especially when she is generous with the milk and sugar, and she throws in a spoonful of ginger. She still doesn't get it. I rephrase, "you smell like home."
6.
Dear Dr. Love,
She says she wants me to go over to her place. Wonders why she always has to come to my place. Her house has a working toilet and shower after all. I have been trying to avoid this conversation for months. She's turned it into one of those 'do you love me enough to do this for me' kinda thing. I have always hated sleeping in girls' houses. You can never be too comfortable. What if she gets mad at me and asks me to leave? Or if her boyfriend decides to visit abruptly? There are also key logistical challenges. Where do I hang my boxers after washing them? Do I carry an extra T-shirt since I can't fit in any of her tops? Plus, where do I throw the used condom? She doesn't care about all this. She insists she wants to see me there Friday. She'll even Cook. She hates cooking. I'm out of excuses. Please help
7.
If I die, sprinkle my ashes in every beautiful place. A little in the ocean in Mombasa. A little more in Lake Ellis on Mt. Kenya. Some more in that Coffee place in Huye that reminds me of Paris. Or maybe that restaurant that serves Lasagna in Kigali. A large amount in that Java in Nairobi with pretty waitresses. So I can ogle even in my eternity. And the rest, sprinkle them in a bus headed to Cairo. So that every time the bus hits a bump, a bit of me will be left in every corner of beautiful Africa.
8.
You texted me in the morning.
After I dropped you off at work. "YESTERDAY WAS THE BEST DAY OF MY LIFE!" in all caps.
Then a few hundred kissie faces and heart emojis followed. Your love was flowing, and I was the ocean it ended up in. I could feel it from the tone of your text. No one has ever sent flowers to your office. The other girls were so jealous. Most couldn't hide it. But what do you care, you are in love with me. Last night after we did it. You held my face in your hands, you swore you were ready to give me children. You would honor me for the rest of my life. I smiled. I said nothing. You wondered if there was another girl apart from you. I smiled. I said nothing. You figured it was okay. I could have as many women as I wanted, if I made sure you always felt like this. You asked me about my ex, does she call? Does she miss all this tender loving and care? I smiled. I said nothing. Then, tired from all the questions you were asking you started to doze off. Just before you fell asleep, I asked if you loved me Mariana. You smiled.
It said everything
9.
Nicole looks at me and says, write about me. I smile. It doesn't work like that…."How does it work," she asks. It does not matter. She insists, I must write about her. She's used to having everything she wants.
But my writing is also a woman. She only comes, after I work hard for it. And when she does, she flows beautifully onto my computer. In spasms at first, then faster and harder. She likes it slowly mostly but she is not averse to a hard-rocking. She only comes on a clean white page. Which is something she shares with Nicole, who likes clean white sheets.
10.
The door closes behind us. We leave behind our titles, our fears, our goals, our targets. The promise of promotions and more money; the fear of retrenchments and less money. It's just us now.
A couple of kids under a blanket pretending to watch TV. Your foot touches mine. They are cold. I wrap my hands in yours. And now we are just a couple of limbs, as one. Your joints with mine, your lips on mine, your hips in mine. Was the day long, my love?
11.
You've had a bad day.
I can tell, because you hoot 3 more times when the gateman takes too long to open. You drive in quickly, Wafula just getting out of your way in time. You bang the car door. Forgetting to lock the car behind you. You come in through the back door. To avoid saying hello to me. I can hear your feet shuffling through the corridors. And we both pretend not to know the other is around. A trail of darkness follows behind you. As you switch off every light in your path to the bedroom. Until half the house feels a little like your soul, without light. You will kick off your shoes and jump headfirst into the shower. I know you. I can see you seated on the tiles, the water caressing the day's pain away. It does a beautiful job of muffling the sounds of you crying. Who hurt you love? Was the world unkind again?
In another 30 minutes, you will stand up. Undress. Pile the wet clothes on the corner. Don't worry I'll pick them up. You will start to shower. I can tell because the bedroom smells glorious. A mixture of you naked and that Nivea Lemon-scented shower gel you love. I am tempted to come in and grab hold of you from behind. Shhhhh love, quiet! Don't you remember what your dad used to say? "The day is over and you're still here. You won!"
12.
If I walk into a hotel too and find a TV barricaded like this, I get so curious. Does it feel lonely, existing all alone in a metal cage. When did it last feel the touch of a male TV running its hands all over the arch of its back? Does it have stories to tell me? How many naked humans have walked just past it? Not even bothering to hide their nakedness from it. Humans can be so selfish. Choosing to do it in front of it. Especially during lunch hour, when married people rush here. They put their rings aside and are done faster than you can say, "Viusasa." Does she miss it? The taste of freedom, sitting there in a supermarket waiting to be bought. The TV, of course, says nothing. It goes on with its life, silently. Taking notes, of all the sins that it has witnessed.
13.
Siku ile jina yangu itatoka kwa midomo za maninja. Time warembo hawatakuwa wakikumbuka smile ya Cj Ama jokes za Jemo, sitalose hope. Landlord akishachukua furniture, vyombo na mattress kulipia rent arrears, sitaogopa. Hata Shylock akikataa kurudisha TV na laptop juu ya deni, sitatense.
Najua nikishow up kwa mlango ya mum, crest fallen. Kichwa ikiangalia chini na mkia katikati ya miguu, hatatense. Hata nikimwambia Ma nimekuangusha, hatalose hope. Atanionesha bed yangu ya utotoni. Na akipeana orders za chapo zipikwe atanipea hug, na anikaribishe mtaani. Na atanikumbusha, sikuwahi fukuzwa nyumbani.
14.
I am in a matatu headed home after meeting you today. It is on Mombasa road, just past the Standard Group offices. On my left is the Sameer business park with all its lights on. On the right, the street lights are blinking ever so slightly. It is almost like they are blushing at the nice matatus passing by them. When they blink, they look like your eyes after I kissed you the first time Mariana.
The combination of office and street lights create a shimmer that feels like your thighs Mariana. The driver is playing Celine Dion. "When you call on me, When you reach for me, I can reach the sky, I feel like I can fly." How appropriate! The lady next to me is feeding her son fries. He loves it. The matatu smells like love and fried potatoes.
It is raining lightly, signaling the end of the dry season. The type of rain that makes the earth moist, just like your lips Mariana. I lay my head on my window. The matatu speeds up, I think of you and my heart is giddy.
The smell of fried potatoes, the voice of Celine Dion, light rains, shimmering lights, and a giddy heart.
You are a heart-shaped missile headed straight at me and I can't wait for impact!
15.
Mariana texted me this morning. "I miss you drooling on my chest." It's her way of apologizing for calling me a cunt, the last time I slept at her place. She's always finding ways to be hurtful. Just last week, she saw a text from my friend Nicole telling me she loves me. Mariana broke the damn phone! She insists, there can only be one woman's love in my heart. It must be her. I swore never to talk to her again.
I'm not too sure why the phone texted her back. "Can I come over…?"
She said yes!
16.
I ask her what trait she values most in a man. She says kindness. I ask her if she is kind to the men she dates. She nods. She used to be. Until she learnt men take kindness as a license to inflict pain.
"Really?" I ask.
"Yes, really." She answers.
She prefers to give them pain now. And they flock to her like leeches to a bleeding body. They always seek love where there is none.
Was she kind to the man she last dated?
She was!
How can she be so sure?
She is!
Where's the proof?
She loved him even if he never made her cum.
That is kindness…no?
17.
I meant to ask her; "how was your day? Did you feel loved? Are you building the life you desire?
Instead, my mouth blurts out, " ulikula nini lunch?"
18.
I just finished washing you with that new shower gel we got. I rub you down. You keep fidgeting especially when the towel is in between your thighs. You tell me it makes you ticklish and horny at the same time. You are always finding excuses to get aroused. I make you coffee, black. You hate it. But there's no milk in the house and no one is willing to go get it. I play you Khalid's new song, "Better." You love the lyrics. Especially the way he insists that "Nothing feels better than this." Touche?
You sip my coffee, sitting on my couch, with your legs on mine and you tell me of all the ways you were loved today. I feel a little jealous. But you insisted at the beginning of us, that you were made to be loved by more than one human. I swallow my pride and stay silent. You do not notice, instead, you drone on and on about your day. And I listen again and again.
I finish applying nail polish on your last toe. It looks hideous. You will wear closed shoes tomorrow. You ask me about my love language. I tell you, "acts of service."
"What's your love language," I ask.
You point at your toes and say "letting you serve me!"
Sleep well Mariana
19.
Zainab and I are in Maasai country today. I got her a new water bottle. So she's feeling herself. We were minding our own business. Chilling, relaxing enjoying the breeze as we rode through the countryside. Somewhere near the boundary of Machakos and Kajiado a maasai boy yelled, "hiyo bike ni mzuri!" And Zainab almost threw me off in excitement. She became all giddy and happy.
Since then her ass has been wiggling all over. I think in her previous life she was a luhya woman. What with her ample behind. I should know, I once dated a girl from Kakamega. That girl was fine, fine! If you did not read the word fine twice, please go back and read it again. This girl knew she was beautiful. She was meant to break necks, and in her presence we wore permanent neck braces. She left me. Said something about me not being manly enough. I digress….
When Zainab and I got to the top of this small hill, she told me. "Hebu shuka unipige picha."
It was not a request.
"Na umake sure hiyo train inapita inaonekana."
I did as instructed.
"Si hiyo train ni kubwa babe?" She asks. She calls everyone babe when she is happy. But for me, only when Mariana is not around. Mariana is the jealous type.
I take 17 photos. Zainab hates every one of them. "Aki, you don't know how to take photos." I take 41 more, eager to prove I can take a beautiful photo. Finally, she finds one she likes…..the very last one I took.
I don't complain.
"Si nakaa poa babe?"…I nod gleefully.
You look beautiful Zainab.
20.
"Why don't you want to be in a relationship with me," she asks.
The question catches me unaware. I am lying on her left hand. I usually prefer to be the small spoon but she's tired of cuddling. Not that I particularly mind this position. "It has nothing to do with you," I respond. "Really?" She asks sarcastically. "So if a girl you were crushing on say Caroline Mutoko came to you and said I want to date you. You'd say no?" Women have this tendency of asking the most philosophical of questions at the wrong time.
I lift myself up from the bed. I can tell she is trying to push my buttons. She knows how I feel about Caroline. How do I get out of this?
I tell you about the girl who I loved, but who could tell I was not ready… She still does not buy it. I tell her I do not think I am ready for a relationship. "What do you mean you're not ready to be in a relationship. You are ready to have constant sex with me, but not love me?" For once, I have no smart retort. So I sit there, on her bed and try to figure out how to explain to this smart, beautiful, high achieving woman, lying next to me naked that I cannot be in a relationship with her. "I simply don't have the energy, resources, time and willingness to love you loudly, intentionally and consistently. I just cannot make you my priority right now." This seems to make sense to her. My admission that I am unwilling to make her a priority. "What then is your priority right now?" She asks.
I tell her about this book I'm trying to write. I just have 1 line on a Word document. But it's going to be a book someday, maybe in 10 years. I tell her about the discipline of trying to write twice every month and still maintaining an 8-5 gig. "So if you had to choose between me and your job, what would you choose?" I do not respond, instead, I wake up, kiss her forehead. I pick up the condom from under the bed, walk to the trash can and throw it in there. I get into the shower and the water is momentarily with me. There's no point in telling her if ever I had to choose between her and the work.
She would always lose!
21.
I have often wondered what a cow feels when it is being milked. I hear the dairy farmers in Kinangop are the most adept in the art of milking. The art having been passed from generation to generation. The secrets whispered from father to son, and from a son to his son, Kariuki. They are, of course, sworn to absolute secrecy. They can never reveal the secrets of the house of Mumbi to those farmers in Kericho who are only after the milk. They don't know how to finesse the milk out of a cow. She should be talked to nicely, called to sweetly in the morning. "Nyambura we mwega? oka ogeithie!" And since the cows of Kinangop love it when Kariuki says that, they rise up to greet him. He leads them gently to the milking shed, all the while saying how beautiful she looks with that mound of manure on her skin. Naturally, Nyambura knows she does not look very pretty in the morning but weeeeee! Kariuki can make a girl feels things. She stands there slowly waiting for him to get ready. He brings the warm water closer to her boobs…sorry udders. When he throws the warm water on her she shudders, almost breaking the milk bucket with her leg. Kariuki angrily slaps her behind. She likes it. "Aki wewe Karish!" She mooos. They will live happily ever after these two.
There's really no point to this story. Only that I bought Arimis. I swear it's because it was the only petroleum jelly available. And I am also curious why a certain girl I know swears by it! Apparently, it has the power to heal cracks in the most sensitive of places. But that is a story for another day, yes?
22.
Mariana is traveling. She texted me at night, at about 10:31 pm. She knows I sleep by 10:30, said something about attending a work conference over the Easter period. I saw the text this morning and I am mad! She has been like this ever since the new guy started working with her. I called her. She says it's just work.
"But we had plans, I was going to come over from Saturday! "
She says she has to pay the bills, "Ama utanilipia rent?"
She knows that's an unfair question given my financial situation right now. Of course, I want her to work. But what type of conference happens over Easter? What's the name of the conference? Why does it have to be in Diani? I hate the thought of her on a white sandy beach alone with that guy!
"Did you carry the bikini? "
She stutters as she answers and that's how I know she's about to lie. She says it's just a work function. She'll be too busy to go for a swim.
"Stop avoiding the question. Did you carry it?"
She ends the call. But not before telling me to stop policing her.
"Hii mwili ni yako? Ama umenioa, ulipeleka mahari lini?"
She won't pick up when I call her. She has not responded to my texts and WhatsApp messages. Her friend who works with her is also not picking my calls.
You must understand. The first time we went swimming she wore that bikini. She looked like that Java steak with the honey dripping off of it. Only she tasted better! We ended up at my house. I figured my dope lines and exceptional skills at talking to women got her here.
She later told me, she only wore that bikini when she was planning to sleep with someone.
23.
The phone buzzes, twice. It's a text. I scoot over to the edge of the bed. I reach for my specs which should be somewhere on the bedside table. I finally grab them and somehow manage to push the phone off the table. I put on the specs and the room becomes clearer. I grab the phone, in the process pulling the covers off of her.
"Baaaabe, stop moving!"
It's the 113th time she has called me that since yesterday evening. I figure in the melee of trying to get my clothes off she forgot my name. I throw the duvet back on her. She disappears under it.
I put in the password. It is Mariana.
"Happy birthday Cj, even though I know you and I are not at a good place. I want you to know that I wish you well. You are awesome 😚😚😚."
I place the phone on my chest. It's the first time she has texted me this week. I am not sure if I should be happy or mad considering the way she has treated me this month.
I place the phone on the table, choosing to concentrate on Wambui here. By now she has emerged from the covers. She stares at me and asks;
"So, how do you want your birthday sex?"
I laugh, heartily. Who asks these type of questions…apparently she does!
I kiss her forehead. She blushes, she likes that. She reaches out into the sheets, grabs it and says something about stroking the hardness out of me. I shudder.
She snuggles a bit closer to me. She starts to ask the sort of questions girls who like you ask.
"Did you mean it last night?"
"Mean what?"
"Did you mean it when you said you loved me?"
I nod vigorously, without saying the actual words. It is enough for her.
She asks me what would make me happy today. I figure, telling her about Mariana would destroy the mood. So I don't.
Instead, I whisper something in her ear.
She giggles and nods happily.
Momentarily she is on top of me, moving ever so gently. She grabs my bed's headboard to steady herself. It doesn't work. So she bends a bit and uses my shoulders instead. I love it. Through all this, she still maintains that rocking motion effortlessly. I am happy.
Wambui sees my foolish grin, she leans over, staring right into me, nibbles my ear and whispers.
"Happy birthday Cj."
I start to shake!
24.
You can tell Mariana was here by the one bra that is hanging on my balcony's hanging lines. She hates having dirty clothes. Always washes her bra and undies before she sleeps. She hangs the bra on the balcony. Her undies usually form a long line on my towel rack. She refuses to hang them on the balcony. "Ndio your neighbours wajue uko na dame hapa?" It doesn't really make sense considering her bra is like a flag announcing her presence here.
She turned up on Monday night. Only calling half an hour earlier to ask if I was alone. I was.
30 minutes later she stood at my door with her trademark overnight bag and a shopping bag full of food. She ate most of it. I stared all through; my mind working hard to try and figure her out. Plus it always surprises me how much food can be filled in such a small body.
She brought a gift with her. Her way of saying sorry, without actually having to say sorry.
A small black bag. It halfway looks like a lunch bag but she says it's an overnight bag, for me. She's been meaning to get me one for a while. Ever since I turned up at her place with a pair of boxers in my left pocket and socks crushed into a ball in the other one. In my defense I was not going to her place that day. I had shughulis to run in town. She asked me to come over when I was already in town….ningefanya?
We slept on the same bed yesterday. Nothing happened! It was mostly me staring at my ceiling noticing the small cracks that have emerged. She slept on her right side, barely moved through the night. Both of us pretending we are okay. No one had the courage to bring up the drama of the past 3 weeks.
I know what you're thinking, what are we, Mariana and I? Are we lovers, friends with benefits, or strangers who enjoy each other's bodies from time to time? I don't know. The only thing I am sure of is, we are no longer in a state of war. And I love that she is with me again, however temporarily this turns out to be.
25.
"Do you like the hotel room?" He asks.
You love it!
"How was the conference?"
Nothing particularly remarkable about it.
"How are the children," you ask.
"Missing you." He says.
You smile. You tell him you are tired. You are presenting tomorrow. Does he mind if you tell him goodnight early tonight?
He does not.
He whispers, "I love you."
You blow him a kiss, and you love him too.
I hear him blush, happily.
You end the call. You turn and you're naked in my arms again.
26.
She tells me there's no way she is letting a man into her life again.
But why?
"Wewe Cj hujui vitu wanaume wamenionyesha."
I pour an extra shot of vodka into her glass. "Hawa wanaume wa Nairobi eeeii! Ni mashetani" she continues. She drowns her vodka in the process.
She used to wash all his clothes.
"Zote?"
"Eeeeeh zote!" Including boxers and socks. Her face cringes when she mentions the boxers and socks. I pour her another shot and I wonder loudly what's the big deal with women and boxers. "Si ni nguo tu?"
The brother apparently had a love hate relationship with TP. Tissue paper for those of you who went to private secondary schools. It wasn't uncommon to find skid marks on his 13-year-old boxers.
"But surely Celine boxers can't be that old?" They were! She insists.
"What about his socks Celine, those couldn't have been that bad?"
She makes a puking sound.
His toes allegedly gave off this pungent smell especially after a whole day of walking. Like manure. That was half rotten. Mixed with whatever perfume is sold on First Avenue Eastleigh. Bint el Zanzibar I think.
And yet she washed them. Why? He was her man. And women in her community are supposed to do these things for their men.
"So Celine, if I married you would you do that for me?"
She would rather die. Her words!
27.
Zainab sighs loudly as I walk past her.
You know women!
So I stop and ask her what's up. She sighs again.
"Ni sawa enda tu!"
Foolish men would have walked away but I turn around and go closer to her. She turns and looks away.
"Ni salamu tu, sikuwa nataka kitu" She says.
Now I know there's something on her mind. I am in a rush to go to work. But if I leave now, there will be hell to pay later.
I ask her how she is doing. Is she well? Did she sleep okay last night? Does her family call her?
She answers in syllables.
"Poa"
"Mmmmmh"
"Eeeeeh"
"Saa zingine"
She's like a locked jaw and I'm the dentist trying to pry it open.
I sit beside her, and we stew in the silence for a bit. She refuses to crack.
I pretend to walk away.
"I miss you sometimes."She whispers.
So that's what's on her mind. I sit down again and for the next half hour, she rambles about how I don't give her attention. We don't go on rides together. I'm letting her go. She tells me it's only a matter of time before another man appreciates her more than I do.
That gets me!
"When is the last time you were on me?" She asks.
I don't answer that question. It feels wrong. Me being on her, there must be a better way to phrase our relationship.
I apologize and promise to spend some time with her this weekend. She smiles at last.
"Cj haunidanganyi?"
Of course not babe.
She laughs heartily. She loves it when I can her babe.
"Sawa, enda job. Niletee kitu mzuri." I promise I will.
I plant a kiss on her forehead, I stand, and walk away.
As the gate closes behind me she quips; "Na Mariana alienda wapi?"
I walk faster.
28.
"Kamau weko?" His mum calls angrily.
By now Kamau is well versed in the language of mum. He can tell her mood by her tonal variations. She is maaad!
He approaches cautiously. The way a snake charmer would, an untrained cobra. She is not above giving him a sound beating. His age be damned! She is in his room. His suitcase is on the bed. His things strewn on the bed. Even his new boxers, which he bought because a girl at campus said real men don't wear briefs.
Mum is holding a packet of his condoms in her hand.
"Hii ni nini Kamau? Umeanza umalaya shule?"
She throws it at him, missing his left eye only because he ducked. A skill long acquired as a necessity to surviving living with this woman.
"Nilikutuma shule kusoma ama kusumbua wasichana?"
He does not answer. It is a rhetorical question.
She launches into a long diatribe. Cursing the boys of today for not listening to their mothers. He isn't paying attention. His mind preoccupied by other things. The way her skin felt on that Saturday night when she let him take her home. The way her legs parted in welcome, and for a long 17 seconds he came….home.
She forgave him, it was his first time. And the last time. She never picked his calls again.
Mum is still talking, she is almost done. You can tell her energy is waning. She's pointing at him now. Threatening.
"Endelea na hii tabia, utakufa na ukimwi!"
With that, she is done. She walks out in a huff. Still angry.
Away from him, she smiles slyly.
She is proud of him.
29.
"Buuuuudaa!" He texts
The universal call sign for the f*@k boys of Nairobi.
"We need to get you out of the house." He says.
I disagree.
Why would I want to leave the 4 walls where food is served at cost price; without a 210% mark up to cater for ambiance and poor lighting? Plus there is something about using your own toilet bowl that is strangely tantalizing.
"There's a gig in Westy." He insists. Speed dating.
"Si utokee!"
The women there are supposed to be looser than the DP's morals. My interest is peaked. But not quite.
"There's free alcohol." He adds.
A tantalizing offer, but who wants to leave their house for 3 shots of cheap vodka and half a glass of wine? Not me.
"Nitakulipa 2k ukikam."
I am out of the house in 25 minutes flat. The extra five necessitated by the need to oil my bum. Made necessary by the propaganda that Nairobi women have been running on Social Media. Apparently, there's nothing sexy about an ashy behind. One woman went so far as to confess that she sprinkles cocoa butter on her phone when texting Nairobi men; to keep away the spirits of dry skin!
I digress.
The room is dimly lit. 3 rows of tables with chairs on each side punctuate the room. Someone sprinkled rose flowers on the floor. A fool. The room smells like a day old manure. Another one sprayed lavender-scented air freshener. A bigger fool!
We ignore the scents and sights. Choosing to concentrate on the issue at hand. The women. They are standing coyly in groups, staring firmly at each other. We stand at a corner as the host explains the rules.
You have exactly 3 minutes with each person before you have to move on. If they like you, you get their number. If not, I get paid my 2K. If 3 women decide you are obnoxious, you get thrown out.
The host reminds us that we are here to find love. We should keep our hearts not loins open. With that, she declares the session open. It begins.
We are playing a game of musical chairs, and the prize is heartbreak!
30.
I lived in a small apartment. The type where if you sneeze twice, it gets misty. Your friends called it a budget sized coffin the first time they saw it. We all laughed. Heartily. I laughed the hardest, perhaps to hide how hurt I felt. The dark-skinned babe seated in the corner laughs longest. You notice. You keep silent, only moving closer and squeezing my hand a little tighter. "Shida si milele babe!" You said. And I liked you a little more that day.
You remind me of this now, as I ask you to pack up your shit. I help you push the 17 bras that have accumulated here these past 2 years into a black bag. You do not beg to stay. You carry yourself with a silent dignity even as your world breaks.
The only question you ask is why it had to be with her. She laughed longest you remind me. I have no clear cut answer to give. Maybe I felt that by being with her, I could prove to myself that I was still a man.
You hoist the black bag onto your shoulder. You walk away, without a word. I feel like I have to say something, one last word. But all that comes out is…
"Can I text you sometime?"
***silence***
31.
"My name is Cj and I am an alcoholic."
She laughs, then sips her drink.
"But Cj you hardly drink."
Of course, I don't. I meant that sentence as a metaphor.
"How so?" she asks.
I explain to her what alcohol does to a human body.
The trepidation as the glass touches my lips. That initial feeling of warmth on my tongue. The whiskey sliding down my throat. The sudden burst of heat when it touches my stomach. The lightheadedness. The uncontrollable happiness. The energy. The urge to sing and dance. Shouting "Wamlambez" to everyone. The loss of balance. Slurred speech. An inability to make smart decisions.
She stops me. She did not come here to get a lecture on alcohol and its effects. She wants to know why I avoid her. Choosing only to meet her in crowds. She wants an answer now, before one of my friends comes over to rescue me.
Instead, I tell her of the 12 steps you learn in Alcohol Addiction Recovery. The first is acceptance. That we are powerless over alcohol. This then is my first step. Accepting, that I am powerless before you Sitela.
Perhaps, then, I should change my statement.
"My name is Cj and I am Sitelaholic."
I am addicted to you.
With that, I walk away.
32.
"I really need to leave!"
It's the 17th time she's said that today. She has been trying to leave since she woke up. It is now 11pm. Even the dogs in my hood are asleep.
She hasn't prepared for tomorrow. She's fidgeting. Pacing up and down my apartment. Mondays are her busiest days. She has to get to work early. But she doesn't want to leave me. Yet.
She's even rummaged through my closet; found a pair of trousers that could pass off for a woman's. And if she washes her top tonight, she could probably wear it again tomorrow.
"Ama what do you think babe?"
I say nothing.
"Babe, mbona hunisaidii?"
I long learnt to not offer solutions to her problems. She likes to hear herself think aloud.
"Ama niende tu babe? How much does an Uber cost?"
She checks the pricing. Curses, and blames me for keeping her here. Like she wasn't the one who constantly reached out to my pants every time she was supposed to leave.
"Babe, kesho utaniamsha 5 niende job?"
Of course, I will.
Who doesn't want morning sex on a Monday morning?
33.
"I swear, I don't usually need this. It's just that, I have had such a stressful week. My boss has been on my case about my KPI's. If he keeps at it, I will resign and start my own business. My mum keeps bugging me about sending her some money. My younger brother was suspended from college. He got caught trying to steal an exam. The little fuck! Back in my day, we were never caught. And he wants me to send him money for fare. He can walk back to Nairobi for all I care. I forgot to pay rent early this month. Imagine the landlord sent me a demand letter and threatened to auction my stuff. I was just late by some 13 days. You remember that greenhouse I bought in Konza? I had to buy seedlings for the planting season. That's why. But when I harvest, we can go to that holiday resort in Mauritius we saw online.
I swear, I don't usually need this. It's just that, I have had such a stressful week. But si you understand?"
She nods, stretches her legs off my mattress and onto the carpet. She walks to the kitchen, comes back with a glass of water. She gives it to me. She nods. She understands.
I throw the blue pill into my mouth and swallow.
10 minutes later….she swallows!
34.
I am in a matatu. The window seat.
I'm seated next to a son and his mother. He oozes love. Like someone in his life constantly opens up his heart and pours bucketfuls of it.
He asks his mum if he can sit on uncle. His mother disagrees. I too dislike the idea. I am not particularly fond of children. And children are not particularly fond of uncle. He insists. Clambering over his mama and onto my lap. He looks at my beard and asks if he can touch it. I tell him no. He does that puppy dog eye thing that grown adults find cute. I do not relent. He touches it, keeps his hand there. For a long minute we stare at each other. Him sizing me up, me trying to find a way to get him back to his mama.
"Uncle, are you mayyiiid?" The boy asks.
I laugh and his mother shifts uncomfortably in her seat.
"Kwa nini unauliza?"
"Kwa sababuuu mum ako chingo!" He says with a wide toothless grin, while his mother attempts to make herself disappear.
I am starting to like the boy.
"Unataka nioe mum?"
"Eeeeh, wewe unakaa aanko mzuyi, si kama ule mwingine!"
The mother looks like she is willing to jump off the matatu. To ease her discomfort, I say hello to her. And for the next half hour or so, we discuss babies, the cost of diapers and all our horrible exes. Perhaps, this is how I meet the love of my life. In a matatu. By the window seat. And a toothless matchmaker.
35.
Hi,
I haven't made pancakes for you in a while. Not ever since you said you wanted us to take this love thing slower. Private. Intention you called it. You wanted to be loved deliberately.
Do you miss them? The pancakes! Or me. I recently learned how to make them thick and fluffy. It was by accident. She slept over. She's the type of girl that likes to feed her man. Doesn't matter that you haven't agreed to be her man. I made pancakes that morning. For me. She just happened to be there. I figured it's only fair to feed someone once you have sex with them…no? She pounded a banana, some peanut butter and a quarter teaspoon of baking powder. Threw that into my pancake mix. They turned out heavenly. Her mother taught her how to make them like that. She kept asking me if I liked them. I did. She wondered if maybe she could make them for me next time? I preferred if she never came back. But no, I didn't tell her that. I only told her I loved you. And you were the reason I was silent when she and I fucked last night. It was the only way I could stop myself from calling out your name.
Mariana!
36.
The waitress turns up the volume.
"Binadamu ni mavumbi, mavumbini atarudi."
She picks up the tray and brings the beers. They are warm. Perhaps this is their definition of ice-cold here in Maralal. She wipes the dust off of the bottles with a dirty rag. We don't complain. Sitela's brother instructed us to leave "maringo ya Nairobi" in Nyahururu. We did. The waitress doesn't have a bottle opener. We use the edges of our table as bottle openers. We don't complain.
"Na tukifika huko, tutaimba Hallelujah"
For the next hour, we drink and tell stories about her, Sitela. The way she loved us without ever saying it. Love is a verb, no? Kimotho is silent all this time. Of all of us, he loved her most. Before she left him and married her husband. We never understood what she saw in the guy. What does one see in an ugly, violent brute? Tenderness she would say. Even when the beatings got worse, she kept telling us…. She loved him!
"Makao ya raha na starehe, iko huko mbinguni"
Your love has killed you. Rest Sitela. Rest.
Song Binadamu (cover) by @njokikaru
37.
I have been hanging around old people lately. This talk of retirement is getting to me.
Njoro's dad wants to retire to his farm in Nyandarua. It's about 17km from the Ol Kalou turn off on your way to Nyahururu. He says the cows there produce the sweetest milk. Stella's dad is a little more modern. He wants to retire in Malindi if the Mrs will allow it. Somewhere with easy access to the beach. Where he can sit and watch young women with perky tits walk around all day. That way he can remember his youth when the stallion did not need to be soothed for 17 minutes by the Mrs before neighing.
I want to retire early. When there's still time. When loving you doesn't have to happen in a series of stolen moments. Picking your calls at work, then pretending its a client calling. Rushing to town to see you after 5pm.
Kissing you early on a Monday morning. Pretending that we prefer to make love at 4am. When we both know we have to be out of the house by 6 to beat the traffic. We will retire to my father's land in Limuru. I'll build you a house with huge windows and a space between the roof and the wall. Big enough that the wind can steal in gently. That way it will be cold daily and you'll always have an excuse to cuddle. With me.
38.
Adek texts me.
Its been such a long time. How come I never make time for her? Yes, she understands. There's money and love to be made but surely, I can't make time for an old lover?
Just 3 hours.
She even offers to come to my place.
"Ati ulihama?"
She doesn't mind. South B is actually easier for her. She will bring the food. Yes her cooking skills are still in the gutter but there's UberEats.
"You're busy on weekdays? Even in the evenings? Aiiii kwani what time do you get off work? That late! You need to tell your boss you need to relax."
She hates it when she doesn't get her way.
Can she come in Friday evening for an hour or two. Yes, she was actually going to be in the area. She has a business meeting at Nextgen Mall until early evening. No worries, she won't stay too long she knows I will be tired.
Okay, you can come in on Friday Adek.
One last question. "Should I bring condoms?"
She notices my hesitation. "Weweee you're so serious these days. Kwani hujui jokes? I'd never do that to you. I know you have a girlfriend. Ati what do you call her?"
Its Mariana.
But yes Adek, you can bring the condoms.
39.
"Did you know Amina, that it was always you?" He asks.
We are home. Seated around the table. They don't give me a chance to respond. Salim takes over, telling me how it was unfair that I took all of dad's love when he was alive. Now I had to take all his money too? The lawyer shifts uncomfortably in his seat. He is new to this. You can tell by the way this fight affects him. Salim swears that they will fight this. Mohammed joins him. They have to fight it. There is no way dad left me all his wealth. Did he forget he had other children? Or did I use my feminine wiles on him?
Mama is silent all through this. She says nothing. Secretly, I know she supports them. Her sons. The noor of her eyes. In her mind, I am no better than a cheap servant. Born to work and give birth.
They all forget that when dad was sick, it was I who took care of him, loved him and washed him. All while they got to leave out their full lives. Perhaps this is retribution.
Did I know that it was always me he loved? Of course. I earned it.
40.
Shhhhhhhh, Adek is here.
In the kitchen, making a quick snack for us. Something to bring back our energy she says. She has my brown towel wrapped around her. You know she's tall, so she looks like a hotdog wrapped in a tiny bread roll. If you opened her up you'd find wispy lines of mayonnaise coursing through her.
She is happy. She's telling me about her day. We weren't able to have a proper conversation when she came in. What with our attention distracted by the need to undress each other. Thankfully, none of us believe in panties.
She comes back to the bedroom. She has a plate of eggs in one hand, some snacks and juice in a go-cup in the other. She sits on my bed and proceeds to wolf it down.
"Heeeey, didn't you make any for me?"
She laughs. Everyone is responsible for feeding themselves around here. The same way you're responsible for your own nut!
I push her off the bed. She pulls me down with her. We land in a heap of sheets, duvets, fried eggs, and a go-cup.
We are making love again.
41.
"Do you think it will always be like this Cj?
Why can't you just take one of these women you keep writing about and settle down?" Mama and I are arguing. Okay not really arguing. She speaks and I listen. I am not yet sure how old I need to get to before she accepts I have valid points in an argument.
She wants me to stop sleeping with half of Nairobi. "But mum, I don't think I am capable of it. I simply don't have the energy!" And we all know you need energy to keep up with Nairobi girls.
She wants me to become a serious man. With a car, an apartment and 3 loans. Maybe even get a small dog that barks constantly like every middle-class family. She doesn't mind if I get a kid 17 months after the wedding. She is willing to wait.
We argue for an hour. She even knows where I should do the wedding. The owner of the location will give her a commission if I take the wedding there.
She doesn't appreciate it when I ask why she should make money from my wedding. The call abruptly ends when I ask who will pay for the wedding.
42.
"I wonder often what fatherhood means to you. Do you think of that? Does it bother you too?"
He slides off my shoulder where he was perched and onto my lap. He is too preoccupied with using my body as a slide to think of the great questions of our existence.
"Daddy, nakuongelesha."
He turns, he knows that I call him daddy.
"Jaaaji, jaaaji, jaaaaji!" He screams while throwing his small fist in the air and spraying saliva all over.
"Do you even understand what I'm asking you?"
Of course he does not. But that does not stop him from answering me in that gibberish that children speak. I figure that maybe he is talking to me in his language. Explaining how he would like to be fathered. Because this being a dad thing did not come pre-installed and I am struggling deeply.
"Daddy, do you understand? Baba doesn't know how to raise you."
He removes his fist from his mouth, places it on my cheek, saliva and all and we stare at each other.
"Jaaaji, jaaaji, jaaaji!" He says a little softly now while smiling.
Maybe we will be okay.
43.
We met on a rainy day. On a night when God and his angels had conspired to make love. Ours.
She was walking to her friend's place carrying a shopping bag. I was trying to get laid. Well, not really. I was a good man then. I figured a woman has no business walking home alone. I got her home safe. Then I went home alone.
3 weeks later, I cooked for her. Beautifully done viazi karai that would have charmed a lesser woman. They did not.
I left school. She found me, bought me dinner in the fanciest place on the South Coast, then fell in love with another man. Then another. Then another. Her heart was made from stardust. The remnants of stars collapsing into themselves. And you know stars as hearts were never meant to stay with you forever.
She made a baby, refused to name her after me. She says she doesn't want her child learning any of my bad habits. But she's okay if her kid calls me uncle. Or dzaddy in 20 years or so. Privately, I call her child Princess, her mother rules/d over my heart for a time.
Its been 3 years now since that cold, rainy Eldoret night. I thank God, thank every god there is, or ever was, or will be, and the whole universe, and anyone else I can possibly thank that I saw that beautiful girl with a shopping bag. That I had the guts to walk over to her, tap her on the shoulder, open my mouth, and speak.
"Msupa, nikubebee hiyo bag?" She said yes.
44.
If I close my eyes, I'm on a beach. Breathing. It smells like salt, and huss. It just started raining. I grab your hand and we run to the patio. The waiters here think we belong here. They show us to a table on the balcony, where we can see ocean waves caressing the coastline. They bring us tea, you want a milkshake. "Can they change your order?" Of course, they can. They bring a vanilla milkshake with a heart-shaped cookie on the side. "Do I want anything else, Sir?"
I wasn't going to order anything else. But its been a while since someone called me Sir. So perhaps 2 sausages won't hurt. They bring them, slightly burnt on one side. That way they have that crispness. It crackles as you bite into it, and you insist you only want to taste it.
Instead, I am here. In my house, watching a movie on my friend's Netflix account and frying an egg for dinner. I have to wake up in 5 hours for work. But if I close my eyes. I'm on a beach. Breathing. It smells like salt and huss. And I am with you.
45.
I'm wearing my old boxers to bed. The blue ones. You hate them. You can't understand how I insist on keeping old things with me. You want constant newness in your life. And I want to keep the same old things with me. You've been trying to get me to buy new pants. You want your man to look nice when sleeping next to you. I refuse. You think of me as being frugal. Unwilling to accept the necessity of change. I prefer to think of it as being loyal. To the things I have. In a few years, you and I will no longer be new. Maybe then you'll appreciate my frugality. But you will still crave newness.
46.
I lost my virginity to a drunk girl in campus.
Not that type of drunk. She was in love. The text you at 11:37pm to find out if you got home safe kind of love. He was my friend. He cheated. She forgave him. Don't judge her. That kind of love doesn't end when you snap your fingers. It needs to be eased out. The surgeon gently slicing open the folds of your heart, grabbing your love for him with forceps. Pulling it out. Closing the wound and then gently ordering the scab to heal.
He cheated again. And again, then one more time before he thought to change. He didn't. She came over to my place. She wanted to vent. To ask me to talk to him. And if that failed to find a way to leave him. Instead, we ate dinner and fucked.
And that night she got to make love to him one last time before she left him. She called his name with me in her. Closure she called it. Which was kind of fucked up coz I thought maybe I had a chance with her. Instead, I got to help a good girl say goodbye to a bad man. Interestingly, we are still friends. He will read this!
47.
"What's the creepiest place you've ever hit on a girl?"
We are talking in the dark. Mariana and I. In between 2 layers of duvets. Her thighs in between mine. The cold keeps creeping in. Her fault. She keeps messing around, lifting the duvet and letting the hot air out. She says it gets too hot for her if she doesn't do that.
I tell her about this one time I tried to hit on a girl at a matatu stage. She was just trying to get home. I thought she deserved to know me. I still had the corky self-confidence 21-year-old men have. A self-belief that if it came to choosing between them and sliced bread, the world would choose them. The girl literally got into the wrong matatu to get away from me.
She laughs.
She can't believe there was a time when girls didn't like me.
"Na babe, mbona umetengeneza kitanda na sheets mingi hivi?"
I lie that that is how we make beds in my family. The truth is that I put out extra bedsheets when she comes over. Just to avoid stains on my mattress.
She asks another question. Then another. And another.
We are two lovers fighting sleep. Stealing a few more precious seconds before we slip away.
Can we extend this moment? Maybe stop Monday from arriving!
48.
Mariana's fetish is to be tied up on a bed. Her hands bound to the bedpost with her feet suspended. She prefers her sex served angrily. Passionately. With the bending of backs and the slapping of rumps. Without finesse.
I prefer my lovemaking to be gentler. A finger making a line across my back. An expert lover guiding me in. A kiss ending with a slight bite on the left corner of my upper lip. Suzziah's voice urging us on. Serenading us. Pleasure with just a smattering of pain to make it interesting. Think of a mango, with too much chilli. Ghai!
Speaking of mangoes. I learned to kiss on one. I called it Salma. Sweetest light skin mango from Makueni you ever tasted. She dripped hot c…I mean hot sauce whenever I picked through her. For those 3 minutes at least. When I was finally done devouring her. Salma and I lay there spent. Catching our breaths. Me on my mother's sofa, and her. On my mother's plate. She was just a mango after all. But I digress.
Mariana has been travelling for a while now. Work. She misses me. And I her. She was too tired to do anything yesterday night. She hates doing anything in half measures. Especially her lovemaking. She would rather not do it. She texted me at work today, around 4pm.
"I'm naked. What will you do about it?"
I resigned.
49.
Rumbling.
The sound of metal grating against metal. Musa shakes the door harder.
"Kevo najua uko ndani. Fungua hapa!"
Silence.
He can hear 2 voices speaking in low tones. Barely audible to a normal human. But jealousy does that, gives you superpowers.
He knocks harder. Using his ring to make a horrendous knocking sound.
"Kevo najua uko hapo na Sylvia. Umeacha viatu zake nje. Fungua hapa! "
He doesn't notice the neighbors parting their curtains slightly to peek through. He changes tact. He begs her.
"Babe, please open you don't have to do this."
Silence.
"Sylvia, babe unajua nakupenda. Babe…"
Silence. Then…
He hears footsteps. Gentle ones. Made by feet unsuited to walking too far or too long. Feet that come into contact with lotion daily. They are coming closer. She turns on the lights. The door curtain shifts. She opens the door, looks at him and…
"Enda home Musa, tutaongea kesho."
Then as quickly as she came, she disappears again. Door shut. Curtains closed. Lights off. Footsteps receding.
He stands there stunned. Thoughts running through him. Maybe she isn't feeling good today. She probably just needs to relax for the night. Nothing will happen. He trusts her.
A bed creaks.
50.
She lost both her parents when she turned 13. Drunk driver. She tells me she can barely remember their faces. But she remembers her father's cologne. A heady scent that tasted like rain-soaked sky.
She doesn't believe in God anymore. I prod. Why? Which African would dare not believe in God? Does she not fear eternal retribution?
She asks me where my God was when her parents were dying. Warm blood cascading off her father's neck. While her mother desperately tried to block it with her hands. Unaware that she was bleeding from her femoral. They found them like that. Bleeding. In love. Dead.
Where was God then?
I don't have an answer for her. But I figure even the creator needs a nap now and then.
51.
Dear Dr. Love,
Bena's girl wants to have a baby. He tells me he can literally smell breast milk in his house. It is the only conversation they have these days, babies. He feels like she no longer sees him as human now. Only a means to an end. A sperm donor. I told him that if his girl wanted my sperm, we would be on the 17th kid this month. Coz she's a babe! He doesn't get the joke.
He dislikes kids. He is willing to have them if she promises not to force him to wash them or touch them until they turn 5. His girl has even started redecorating his house in anticipation of a kid. They are not even pregnant yet! She wants to turn the second bedroom into a nursery. Never mind that right now it is Bena's office. "But babe you never use it!' Yet the only reason they moved into a 2 bedroom was so that he'd get an office. The baby is already winning the war for his girl's heart. Bena thinks maybe he should just end the relationship and count his losses. Maybe find a girl who is a little older and is done with the kids' thing. He is so confused. What should he do?
52.
We are growing old.
The first crop of our friends is dying. The gods doing their biannual threshing. Calling home the good amongst us. Leaving only the drinkers of cheap liquor, heathens, and smokers of bad weed.
I met her in the campus club. She was giving a fourth-year a boner. She took a liking to me. And my best friend. Every now and then when we had enough money to eat and drink, she'd give us boners. My friend and I always felt kidogo awkward. Because there's nothing interesting about looking into another man's eyes and telling him…"baba, imesimama bana!"
She loved to party. Could drink me and most of the guys she knew under the table. She hated class. Preferred to be out traveling or doing something nasty. Sometimes it was with me and my best friend.
She loved to dance. I swear if she started to dance and turned her back to you weeee!
We buried her today. Underneath a lonely acacia tree next to her dad and mum. They opened the casket before slipping her body into the grave. She looked peaceful. Almost smiling. Like a kid finally getting their way.
We never understood why you had to eat your life with such a big spoon. Now we know. You were only trying to find your way home.
Rest Halima, rest.
53.
9 am.
She's lying in bed. Mine. Eyes still sleepy. She hates waking up early on Sundays. She prefers to sleep in until 1pm. Just after the local churches have ended Sunday service. Its more peaceful then. I make her breakfast cum lunch. She likes to eat it on my balcony, smoking a joint and blowing the smoke towards my neighbors house. The neighbor hates it. Did I mention she's only wearing a bra and my shorts?
We are discussing our habits. She doesn't understand why I have to wake up and shower early even when I'm gonna be home all day with her. Wouldn't it be better if we cuddled the morning away?
I explain, that on Sundays, when she is around. I get to wake up and meet the love of my life again. If that's not worth looking nice for…what is?
She smiles. "Aki wewe Cj!"
54.
His phone rings. He reaches out, presses a button on the side and it goes silent. He turns and struggles to get my head on his arm again.
"Aren't you going to pick that up?"
Of course not. Why would he talk to someone else, when he can listen to me all night. Crafty. But I have been the girl on the other side of the call too many times. I know how horrible it feels.
"Call her back."
"Call who? Its probably just work!"
He tries to convince me that it's not a girl, and if it it is. She is just a friend.
I remind him of our conversation when we started this. He promised me no lies. And I promised him no expectations.
He nods. Turns and calls her back. And for the next half hour, another girl gets to be told she is beautiful and worth seeing this Saturday. She wants to have coffee with him. She might let him kiss her if he takes her to Alliance for the play.
She laughs throughout. I can see what she must like in him. The ease with which he makes you feel wanted, desired.
The call is ending, she tells him goodnight then whispers she loves him.
He loves her too.
He ends the call, then turns and fondles my breasts.
55.
I can tell it's him by the way he climbs the stairs. 3 at a time. Heavy footsteps splitting the silence in the Apartment complex. Half of him running, the other half well, running. It's as if his body can't wait to be close to mine. He gets to my floor and his pace quickens. He stops at my door and I can feel him forcing himself to calm down, breath, you are here now. Then he knocks. I had promised myself I'd let him knock 3 tines tonight. To remind him that I'm a girl, and a girl got options. Instead, here I am throwing the door open. Rushing into him, hands wrapped around his torso. He smiles foolishly, like a little boy finding out the girl he likes, likes him back.
"Isabella!"
He says it and it comes off as a long hard moan. It sounds like sweetness. Like cigar smoke on an addict's throat. Peaceful and threatening at the same time.
Is this how your name should sound in a lover's mouth?
Come in love, love me again!
56.
"Baa, baa, black chip,
Have you any woooo?
Have you any woooo?"
She is sitting on the sofa. Singing along to her favorite Cartoon series so intently that she doesn't hear me come into the living room.
"Daphne unafanya nini saa hii?"
She turns, sees me and breaks into a smile "Daddiiii umeamka?"
Of course, I'm awake. And not particularly pleased to find my child watching TV at 5 am.
In her sweetest voice she explains.
"Si naenda chuye leo."
And her mother promised that if she woke up early, she could watch her 30 minutes of TV. We obviously did not expect for her to wake up.
It's her first day. She is excited. Would have slept in her uniform if her mother didn't hide it.
We sit and spend the next 15 minutes singing "Baaa Baa black sheep." She tells me she will study hard and make me proud.
"No boyfriends?"
No boyfriends, we even make a pinky promise.
"What do you want to be when you grow old?"
She wants to be a doctor and heal her father of HIV.
57.
The doctor opens the door again.
"We are ready, you can see him now!"
The girl heads to the door, her relatives trailing closely behind her. She stops. Whispers to her mum, she wants to do this alone.
Mum understands.
She walks in, the click of her kitten heels echoing against the walls. It feels like someone poured darkness and laboratory disinfectant in here.
The doctor guides her to a seat beside him. Then she leaves. She will be back in an hour.
Naima says hello to him. Asks him how he has been. Is he happy? At peace? Still in love with her. They talk about everything. About how much she loves him. They talk of getting a child together. Yes she knows he doesn't like babies but "mmoja tu babe?" He relents. He loves her enough to spend sleepless nights changing diapers with her. She smiles happy to finally get her way. But she is tired of living like this.
"Let's run away and get married."
They don't even have to do a wedding.
He nods, reaches his hand out to her.
"If I asked you to marry me right now Naima would you do it?"
She tears up, reaches out to touch his face. It is cold, ice cold….
A warm hand gently but firmly pats her on the shoulder.
"Madam, its been an hour, we need to take him away!"
The girl turns, wiping the tears from her face. She nods.
They close the coffin, place him on the trolley and take him towards the waiting hearse.
58.
I'm coming to pick you up. I just bought a car. Silver. The color of your mum's wedding dress. I passed by Sammy's car wash, got it cleaned up. I even asked him to use some of his special spray. The one that makes the car smell new. You slept at your aunt's place.
"Can you pick me up hapo Ruiru stage."
Of course, I can. I'm hoping we can take a drive past Thika, take the turnoff towards Kandara. Really put the car through its paces. Then maybe we stop somewhere lonely, and you can give me some of that sweet loving.
I can see you now, wearing blue jeans and a black T-shirt. I honk and wave at you like a madman. The conductors at the stage quickly remind me that, "gari ni ya loan."
You enter the car. Scowling. I pull it into the highway.
"So babe, what do you think of the car?"
"You couldn't have bought a car bigger than Kama's?"
My heart sinks.
59.
Baaaabe, do you have Wanja's number?" Of course, you have it.
She knows you have it. Why do girls ask obvious questions? But you are a smart man. You tell her it is in your contact list.
You shout, "Password ni birthday yako!" She smiles when she hears that. She mumbles something that sounds suspiciously like 'thank you.' You accept it and continue working through your constipation.
In half an hour you will walk out of the toilet to a house that feels like a freezer. Ice cold. You won't notice it because you will be too busy flexing your legs to get some feeling back. Plus, you'll be promising your gods to start eating more veges. Your ass will appreciate it.
Your wife is holding your phone. She asks if the girl you are texting is Mariana. Of course, it is. How many Marianas' are in this country?
She is angry that Mariana has been sending you her photos. You're a man, you'll lie that they mean nothing.
If the photos were nudes, she would believe you.
But a man doesn't ask for pictures of a girl in a T-shirt, unless she means everything to him.
60.
The cleaner runs the mop through my legs again. I am tempted to ask her to stop being foolish, but I prefer to start my day peacefully. I sip my tea and try to read my paper. The cleaner pulls the chair opposite mine and proceeds to drag it across the room. She comes back and runs the mop under my table. Jesus, please take the wheel!
She finishes. Brings back the chair and heads off into the kitchen with her mop and bucket.
The door opens and a man walks in. Nothing particularly remarkable about him, well apart from his unremarkability. He holds the door and she walks in. Silver-haired, dark-skinned, shyest eyes with spare calories on her hips. Sylvia. She's holding a kid on one hand while she carries a younger one in the other. She walks to the table next to the door and plumps down. Her husband takes the younger child from her. He places it on his lap and starts to play silly games with the kid. I hate it. He looks ugly doing it. She laughs as he does this. The sort of laugh that emanates from a place of goodness.
They order. Tea masala for him, warm milk for the kids and a Malindi Machiatto, triple, honey instead of sugar served with a giant beef samosa. Exactly what she ordered before she told me she was leaving me. They start to eat, and for the next 5 minutes I get to sit there, watch the love of my life, love the love of her life.
61.
You're fidgeting with the controls on my car. Pressing every button on the dashboard. You can't quite figure out how to connect your phone to the speakers. I slow down, and pull off the road. I help you connect it and you are momentarily blasting Sam Smith's album away. I hate it, but I love you.
You ask me if I remembered to carry some booze for your dad. I did. Though I didn't quite understand why I had to buy alcohol yet your dad doesn't drink. Tradition you called it. We must respect tradition.
I pull back onto the road. You draw down the window. The wind sneaking quickly past you. This feels right. Me, you and a long road taking you home. Do you think your mum will like me?
62.
There's a list on my phone. Of girls, I want to date. You're last on it.
I've been looking for reasons, excuses, people not to date you. Of course, I'm failing, badly.
I texted you today. At 5 pm just before you left work. Can I see you? Over the weekend. I'll buy lunch and dinner. Perhaps a drink and maybe end the night with us naked. I will be on the bed watching you dance, wearing these heels. I promise I'll wake up early on Sunday and disappear before feelings check-in and I am tempted to be honest. That I have a brass ring somewhere on the 3rd drawer of my desk at home. It has your name written on it with the word "Always?" juxtaposed against it.
But you text me back at 5:35. When you've left work and are in a matatu headed home. To your new boyfriend, who doesn't have a list. Who wants you and you alone. He is okay with seeing you daily and not on odd Saturdays when other girls are unavailable. You need to concentrate on being loved by him. Can I give you space?
I agree, ni sawa. Sitakutext tena!
I go back to my list and call the next girl. She is okay with us getting naked on Saturday. I will be on the bed watching her dance, wearing these heels and a brass ring with your name on it.
Fauzia Noor…..Always?
63.
You can tell the newbies easily. Their first time at the festival. They stand at the corners looking at the women shaking their asses. And they will wish they had the courage to go to them. Dance. And ask to grind their groins on… Of course, they won't. They will spend the night at the corner. But call them tomorrow.
"Buda, ilikuwa kubwaaaaaaaa!"
Giant stories of all the girls who could not get enough of them. Particularly the dark one, in a pink skirt whose behind shook on its accord. Like a leaf on the bonnet of a John Deer tractor.
I am somewhere seated. On a tire, some 100 meters from the stage. Waiting for Sailors.
"Wamlambez?"
Surrounded by beautiful women. Crouched on my phone, typing away my story of the day. When I'm done, I'll turn to my right.
"Naitwa Cj Btw!"
She won't know who that is. She won't particularly care. I'll buy her a drink and lie that writers make the best lovers. She is smiling now.
"Uko sure?"
I nod. "Kama tunacheza na words hivi, na wewe je?"
She blushes.
She may wake up beside me.
64.
"I think sex destroys beautiful things."
He sips his drink. Looks directly at me, waiting for an answer. He is joking, I think. He wants us to be in a relationship, without the sex. For now at least. He wants to spend the next few weeks learning me. Without the sex clouding his mind. Like my thighs are made of chamomile, sage, and eucalyptus. If he touches them, his mind will turn frothy white and he won't be able to think.
"What do celibate couples do together?"
He senses the skepticism in my tone. He tries to explain that we can go to movies, watch plays, listen to music, eat, drink and maybe pray. I agree. But aren't all these precursors to us ending up naked, somewhere in a toilet, his hands on my….
65.
The mattress is on the floor. A glass of warm water on the side table. Check under the pillow, your favorite socks. The red ones. With stripes of white and grey on them. Your feet look like a sunburned mzungu when you wear them. You want some tea too, with cinnamon, some tea masala maybe. "No, please don't use sugar, only honey tonight." You want to feel love on your tongue. Can I rub your back? Yes. Where does it hurt? Here? Lower? Okay. You sigh, I stop and push the cup of chai closer to you. You sip and sigh again! What did you do to deserve this? I don't know. I haven't seen you in a week. Forgive me if my love comes gushing out. You turn to me, "turn off the lights." I turn down the volume as well. The music sounds like a whisper now. Do you want candles? You shake your head. I fall onto the mattress and pull the duvet over us. It smells like cinnamon, tea masala and you in here. You pull my panties down. Place a finger there. Softness. Rub gently, bring that finger to your mouth. Taste it. Sweetness. Kiss me. Deeply. Stop.
Baby look, we are making love again.
66.
"What if he finds out?"
"Will you tell him?" You shake your head, you won't tell him. You don't want to break his heart.
I don't understand why you are this worried. If you won't tell him and I don't tell him, he can't find out. You tell me about this dream you've been having. Of him walking in and finding you here, with me. I remind you that the doors are locked, and the gateman has firm instructions to tell everyone I am not in. But you still can't shake that feeling.
"What if he finds out?" Will I leave my wife for you? Of course not. If he finds out, you and I will end.
What's the point of sleeping with you without the thrill of possibly getting caught.
67.
I come in a little sad tonight. You notice. You ask how my day was.
I'm tempted to tell you that my heart is breaking. She left me. Instead, I smile and I tell you about work. You know its a lie. You insist. You remind me that you promised to be with me even in the bad days.
"Babe, I'm okay. There's nothing to tell."
You push harder. Finding the places that hurt and applying pressure there. I resist. You push harder. I resist. You push again and it bursts from me in spasms. In between me wiping off tears and mucus, I tell you about her. The way it feels to be with her. To be desired by her. How she insists that I keep my wedding ring on when I am with her. She knows everything about you, I told her everything. Yes, even about the problems we've been having. Of course, I know it's not your fault you can't have kids. You stand there silent. Confused. Betrayed. Angry. Unsure of yourself.
Come, sit beside me love. What did those vows say? Your people shall be my people and your pain my pain?
Here, share this heartbreak with me
68.
You brought your kid to meet mine. You insisted it shouldn't be too obvious! You don't want to spook him. He likes to be eased into things, especially relationships. Ever since his father left, he isn't as trusting anymore.
We walk in and I pretend to see you. Seated. On a lawn chair overlooking the beach. Your feet buried in white sand, your toenails sticking out like cowrie shells. I come over, say hello and my daughter blurts out smiling.
"Na huyu aunty ni mrembo daddy, si umuoe?"
We blush. Forgive her, she's been trying to marry me off for years. She asks who you are and we lie that we are long lost, friends. Who just happened to bump into each other today.
"Na mum wako ako?" Your son asks.
My daughter tells him about her. Her death. Cancer. All she remembers is mum liked to wear red nail polish. "Kama ya huyu aunty."
They bond over that. We send them away. The adults need to talk. Your son asks if they can play by the water. You say yes. If he promises not to get into the water without you. He holds out his pinky finger. He swears it. They run off together.
We sit there desperate. Hoping they like each other. If they don't, we both agreed to end this. I have already lost a wife. Losing you won't hurt as badly.
69.
"So where are you headed?"
She doesn't give any indication that she's heard me.
I tap her thigh.
She flinches, faces me with a quizzical expression.
I motion "Can you remove your earphones?"
She removes one, and asks, "What?"
I smile. "So where are you headed?"
She stares at me for a long minute.
"Is that what you're bothering me about?"
"Kwani ni vibaya kukuongelesha madam?"
She puts her earpiece back on. Fiddles with the buttons on her phone, probably increasing the volume. She looks longingly outside the window. She wants to be somewhere else, not here with me.
I should probably stop wasting her time. She isn't even that pretty. I tap her thigh again. She removes one earphone angrily.
"Ni nini wewe!!!
I smile, "Ati umesema unaenda wapi madam?"
She asks the conductor to stop the vehicle.
70.
Ng'ethe chimes in, "My father told me the plot of land in Nairobi was mine!"
"What do you mean he told you? Alikuambia lini? Kwani sisi alikuwa anatuchukia ndio asituambie?"
"He was also our father, si wewe tu!"
His siblings counter him word for word. Arguing that they too deserve to inherit something.
But is it his fault that Mzee did not include them in the will, Ng'ethe wonders? Of course not.
The others gang up on him. They swear to never talk to him if he doesn't share the spoils. Ng'ethe can imagine the peace and silence he will have if that happens. He won't give them shit!
"Mkitaka mwende mtoe Mzee kwa mchanga!"
The room erupts. Threats and counter-threats. Nyambura promises to arrange a quick painful death for someone.
In the melee, only their mother stays silent. She misses him. They would not behave like this if he was here.
Guka, wake up, your children are fighting!
71.
"Muuuuum, come on tell us!"
They are seated around me. Their father in the corner pretending to read a magazine. He hates reading. Achieng' leads her 2 sisters in trying to break me.
"But why are you badgering me? Why not ask your father there?"
He shifts, now pretending to be particularly engrossed in the magazine.
"Because dad doesn't like to talk about these things!"
"Neither do I, acheni kunisumbua"
"Muuuuum, don't be like that."
They want a love story. A story where their father swooped in and I fell into him. Drowning in the essence of his existence.
"Muuuum, just tell us. When did you know you wanted to marry him. We need to know what to look for when choosing husbands."
They have a valid point.
But I have little experience in choosing husbands. How do I tell my kids that they are a series of accidents?
72.
I was gonna call you and tell you how shitty of a day I've had.
But you call me first. Your boss was mad at you today. You lost a big client. Then your period started in the middle of a presentation. Thank God you'd worn a pad. Your mum is sick again. That pain in her lower back that we thought was gone is back. You're falling apart. But no you don't need fixing.
I sit here, and I listen to 21 other ways this day wasn't good to you.
In between sobs you stop and ask how my day was. I lie. I tell you it was okay. My problems can wait.
73.
"Scoot over."
I move over to the left side of the sofa. You sit a little too close to me.
"You know I didn't mean for this to happen?"
I nod.
"Is there anything I can do to make this better?
You can leave my fucking house. But I don't tell you that. Instead, I smile and lie that I am okay.
"Babe, I hope you believe me. I didn't mean to sleep with him."
I get it. I totally understand. You had a severe bacterial infection and his bed looked like antibiotics?
"You won't talk to me?" I'm trying to be the adult here and not say shit but you're making it difficult.
"Kama hutaki story yangu, give me a hug niende!"
Funny how you're always able yo make every situation about you. I walk you to the door, using everything in me not to push you out and bang it.
"Okay, but you know I'm always here for you."
If you knew the number of girls I've told that shady line to, Lord! It tastes different when it is directed at me.
"Call me if you need me." You say this as you walk away. I close the door gently behind you. I walk over to my desk. I open the third drawer on the right. I pull out the package and place it on top.
I guess you won't be needing this.
74.
"Could you please pick up the damn phone! It won't stop ringing."
"I can't."
"Why not?"
I lie and tell her some bullshit about sleeping better if I don't touch my phone past 10 pm. She understands. But could I please put it on silent.
I refuse.
"THEN PICK UP THE DAMN PHONE!"
I can't. Every call I've picked up from family past 11:30 pm, someone was dying. Or dead. Maybe by not picking up, I'll save a life.
75.
Our hostels are numbered, sorry lettered, Hostel A all the way to P. The boys get the odd letters A,C,E,G,I,K,M,O. The girls get the others. Your hostel is 700 meters from mine. To get to it, I have to walk down 2 flights of stairs, past the shop that sells mandazi and chipo on the ground floor. Take the main road, heading towards the administration block for 159 meters, take a left onto the footpath leading to the girls' section. Sign my name and leave my ID with the guard at the small gate. Promise him I'll be out of the girls' section by 10 pm. Swear that I intend to go to Hostel K and not to M. And no I won't sign into one hostel then go to another.
"Ndio boss najua mtanipata nikijaribu hiyo."
He lets me come in. All the while muttering about how we think we are so smart. He says that boys that look like me are the reason half the girls are pregnant. I choose silence. I take the 11 stairs leading up to your hostel. I say hello to the Matron. "Ndio matron, nimerudi tena." No, I won't try to sleep over again. I go up 3 flights of stairs, take a right, 15 steps and I knock on the door opposite K237. You open.
"I'm sorry for cheating, take me back."
Please?
76.
The knocking continues. This time a bit louder. The knocker dispenses with the common courtesies of knocking….Knocking softly enough that the neighbors don't hear, while hard enough to get my attention. Instead, he starts shouting, "Shiko, najua uko ndani, fungua."
I turn in my bed. Willing myself to ignore the noise.
He continues, demanding that I stop coming home late and pay him the damn rent.
"Ndio maana, hatupeangi vijana nyumba za rental. Hamlipangi." He shouts!
I can feel my female neighbor's eyes peering through her curtain. Getting juicy stories to share with Pamela tomorrow as they wash clothes. As if all of us don't know she has multiple boyfriends.
The caretaker finally gives up, calls me a faggot and promises to lock me in.
I turn, and will myself to sleep.
I need a boyfriend.
77.
"What's the worst thing you've ever done?"
"I slept with a friend's wife"
"How is that so bad?"
"He was dying."
"Would you do it again?"
"Yes."
78.
"Do you believe in God?"
I don't but she does. She tells me of how good a man, her husband is. He is loving, a provider, a protector, he prays for her daily. Whenever she thinks of God, he comes to mind.
She loves him, she wants to spend her life with him. She just can't figure out how to make him feel secure.
"Tell him what you've told me right now."
"Do you think it will work?"
I am not sure, but if a girl said that to me. I'd probably marry her.
She types it out and sends it. He calls immediately. He loves her too, he wants to be her king. He wants her babies and can't wait to see her on Tuesday when she comes back from her seminar. She blushes through it. Her voice squeaking every time he calls her "Kairetu."
When they are done, she turns and puts a titty in my mouth.
79.
I called out your name today. Loudly. In a matatu, headed home. The lady seated next to me had to elbow me. To stop me from moaning your name again. I get home and I am a little disappointed. You're not here. Yes, I know you told me you'd be with your folks today. Forgive me for hoping.
I shower quickly and get into bed. Pressing my nose every 5 seconds into your pillow. Trying to get a whiff of you in me. I text you goodnight. You text back. Yes, you miss me and can't wait for the weekend.
I set the phone aside, pull the duvet covers onto me. I need to sleep. In a few minutes, I'll wake up, grab my phone and text you again. "I miss you, can you come over tomorrow? " You text back. You don't understand why I suddenly can't get enough of you.
Forgive me, the memory of your sex still lingers on my sheets.
80.
My mother's husband left us for a prettier woman. I do not blame him. Mama mourned him for 12 hours. Then she woke up and went about her business. When I grew up, I asked her about it. And she told me women from our side of the country weren't build to cry for anyone. She summoned me last weekend. To her house in Keroka. I've been a bad boy. To get to her I have to take a matatu at the terminus opposite Tuskys OTC. I buy her a couple of things when I get to Kisii town. To mellow her down in case she is particularly mad at me. I even throw in a nice leso, all girls like beautiful things.
When she is done greeting me, she asks the help to bring me tea. As we sit and wait she asks if there's something I need to tell her. I blurt out.
"I left my wife for a prettier woman mama."
Please don't blame me.
81.
You're curious. "What's the best sex I've had?"
I'm foolish. I answer you. Telling you about this girl who used to come over on weekdays. She'd leave school after her last lecture, get here after I sent my last email. She hated eating first. She preferred filling her stomach with me…first. Then she'd dance around in my kitchen, wearing my boxers as we made pancakes for dinner.
You wonder if our sex will ever get to that? It will. Patience. I made love to that woman for the best part of 3 years. A woman's curves take years to master. I'm still unlearning hers. While learning yours.
Does that answer your question? Yes. You come over to the kitchen, we make chicken stew for breakfast and dance around in my boxers. It's Sunday.
82.
I'm on a bus headed home. I got the window seat today. Perks of booking early. And I also prayed in the morning. That the gods grant me a pretty, female seatmate. The gods have been unkind to me this past year. Saddling me with among others; a wide-bodied gentleman who liked how I smelt and could not keep his head off my shoulder. I would have entertained it, if he did not drool a disgusting white foam while he slept.
I'm watching a couple saying goodbye to each other. She loves him. She keeps hugging him. They are old lovers. You can tell by the way they fit into each other. Time having sanded down their edges.
The driver hoots, and the conductor asks everyone to board. She hugs him again. He adjusts her hijab for her and whispers something in her ear. Probably, "Be safe Hamshira." She tears up, kisses him and he helps her pick up her bag. As she walks into the bus and through the gangway, she keeps trying to wipe her eyes dry. They fail her. She takes the seat next to mine.
She waves at him. He waves back. She waves at him again. He waves back.
She stretches her hand in front of me and onto the window. He stands on his toes and they do that cheesy holding of hands against the glass thing. My heart collapses Into itself.
Is there a shop that sells loves like this one?
83.
It's 2am and I am in my mother's house. Drinking. Alcohol. Remembering half a decade ago when I had just finished high school. I'd wait for everyone to fall asleep. Put season 2 of Spartacus on the DVD and turn down the volume. It was my first time seeing white women naked on tape. I loved it! I had a girlfriend then. A 5ft 6′ ebony-colored ball of energy whom I wanted to marry. She was okay with that. If I promised never to beat her, and to give her money for her hair. We talked mostly between 12am and 6am. It was cheaper then. YU night bundles. She'd tell me about her day. How her mother forced her to do chores. And how much she hated ugali. I'd reconciled myself to cooking and eating it alone for the eternity I'd spend with her. She posted a picture today. In a blue dress. Her belly a little wider. A sheepish looking man hugging her from behind. The photo aptly captioned #Family. Maybe this explains why I am in my mother's house alone at 2pm. Drinking. Alcohol.
But it's probably insomnia.
84.
Zainab and I are dreaming of retirement. To a new house on an old farm that borders a river on the south side. On the western edge of the farm, there's a small graveyard where all the Gicherus' are buried. It feels fitting to bring life to a close in this manner. With family. I've been spending a lot of time with her these past weeks. Alone. Riding off into the dust together, stopping only to drink water and chat. She doesn't think she can do this for the rest of her life. See me maybe once every 2 weeks. She wants more. She's even willing to give up our monthly excursions to the mall. That tells me she's serious. Which girl would willingly give up ArtCaffe cocktails?
"What would you have me do Zainab?"
She wants to move away from the city! She wants to spend the rest of her life near the river.
"Won't we be lonely?"
Not if we find a nice girl to come with us…..
85.
You ask me why I am single and I give you the runaround. Taking you in circles until you stick your foot out and trip me. The excuses spill over:
"Hata wewe, si you know there are no single women in this our Nairobi?"
And the ones that are single, ni moto wa kuotea hukooo! I also don't have enough money. Nairobi love needs financing; ni kama mortgage. And in between hustling and hustling where's a brother to find the time for love? And my personal favorite….I am not ready, yet.
You dig deeper. Commanding my heart to stand at attention, stiff. You plow into it. It yields, and I tell you about how, I always find an excuse not to stay. This one is too short, that one too tall. She wears too many wigs, the other spends too much time on her natural hair. And that one, wooooi that one has too much ass for my equipment. A boundless canorcupia of excuses.
You dig deeper. This time pushing your shovel into the heart of me and twisting. It comes off with a big chunk. The truth buried beneath it. That I am too picky with women, trying to find one that will meet the silly ideals in my mind. Yes, I am also easily distracted, running after every dark-skinned 5ft 5′ girl that passes by.
You are smiling now. You are 5ft 5′ with melanin dripping off of you. Here, put your face on mine!

86.
If you found yourself walking in town today, you smelt it. The smell of baby powder, and too much energy. High schoolers were going back to school and it seems you could not walk 5 meters without stepping on one of them.
I pitied them because in my younger days, I felt a particular revulsion whenever I had to go back to school. Do you remember it? The rules, the hunger and the constant desire to see girls? Any girl really, we were not particularly choosy then, not that we are right now. But back then I would have given anything to talk for 5 minutes with a girl. They largely ignored me then, and the teachers lied that "someni tu, watakuja." They haven't come yet, and I am really mad at you Mr Mutuku.
There was, of course, the normal search as we entered the school. You would find a long line of teachers waiting to do a thorough search of what we were carrying from home. It is a pity they never covered their syllabus that thoroughly. Anything that was on the "illegals" list would be happily confiscated. I am not too sure where they took these items after they were confiscated. They claimed they donated them to a children's home. Lakini corruption huanza mashinani.
We hated school food. Especially githeri which we happily nicknamed "Muro" from the word murram. The ration of maize to beans was always imbalanced in favor of maize. No wonder we all had very strong jaws back then. Thankfully, avocados and tomato sauce never made it to the "illegals list." It made the "muro" a lot more palatable. The curious thing is my stomach began to grow very rapidly at the time. Thus, if I ever meet the CEO of Peptang, I would not know whether to ask him to pay for my gym membership or hug him for making high school waaaaay sweeter.
87.
There are women you meet and they change you. You sign up for serious magazines like Management by KIM. You finally move from your kabedsitter and into that 1 bedroom in Kileleshwa. You stop wearing torn socks, not because you hate them. But because she bought you 17 pairs of happy socks. Plus, she says a serious man has to look the part.
She will leave you after 6 months after you complain again about the cost of vegetables there. You miss your mama mboga in Kinoo. And the landlord increased your rent again by 2K. Ati they've decided they want to get a better security company. As if there are thieves in Kileleshwa.
You will move back to a 1 bedroom in Kinoo. Your stuff can no longer fit in a bedsitter. She enlarged your life.
She will get married to a good man in a year. He loves her. Posts about it every 2 days on Instagram. After the wedding, she will post inspirational stuff on Twitter. And every time she posts about how important leaving negative people behind is to success.
You know she means you
88.
There are few things girls love more than their machine(s). She says a lady should never admit to having more than one. How often does she ride it? Not often enough, wishes she could do it more. Does she enjoy it? Yes, she loves the rumble and tumble especially when she is riding on top of hard….rocks. Which is understandable considering she lives in Kitengela. Every road there is made of hard….rocks. She is happiest when doing it. A heady combination of hard rocks, long roads, steel frames, and soft flesh. She winks. I stop the interview, I am no longer sure we are only discussing bicycles.
89.
"Kariuki, do you remember what you used to pray for?"
Mum likes to ask philosophical questions in the middle of a crisis. The type that takes you from the moment to 33,000ft in the air.
Yes, I do remember I prayed for a good job with enough money to live on and then some.
"But Ma, you don't understand. These guys wananitumia tu. Hata hawanilipi vizuri!"
She smiles, asks how much I think I should be paid. I mention a figure.
"Is that net or gross?"
Net of course.
"Would you want a car and a house to go with it?"
She's being sarcastic.
"Ma hauelewi! I make them so much money. Nafaa kulipwa vizuri!"
She pats the cushion next to hers on the couch. "Seat! I know you work hard!"
Of course, I do Ma.
"My worry is you've forgotten how to be grateful for what you have. You're constantly looking for how to get more."
"But Ma, how does being grateful improve my salary?"
She remains quiet, fiddling with her phone. She opens an app, inputs some numbers, gives me the phone and walks to the kitchen.
                                          Nairobi County Government
Payslip (Oct 2019)
Desig. – Kindergarten Teacher
Employee – Wanjiru Mercy Kariuki
Gross Salary – Ksh. 19,200
90.
My friend is going for pre-wedding classes. Hates it. Loves him. They gave her an assignment today. To create a death folder. Where you put in all the information and documents your spouse would need if you died today. Bank statements, Title deeds, Lease agreements, a copy of your will and a letter to your spouse.
"What did you write in the letter?"
"Aiiii Cj, I can't tell you!"
"Why not?"
The information is private. Even her person is not supposed to see it until she dies.
So I came home and created my death folder. I shoved in my bank and Mpesa statements, printed out my landlord's texts, passwords to my ATM and Facebook. Then I sat down to write the letter.
"Dear Mariana, if you're reading this I'm dead. I was hoping to spend half a decade or so loving you. But you have a preference for men who are steadfast in their love.…"
I cross it all out and try to start again. "Dear Mariana."
No, how about "My lovely Mariana."
I cross that out again.
How about, "Mariana, I regret losing you."
That feels right.
91.
Stop, babe stop. Stop kissing me. My sister is about to open the door. I don't want her to open it and find your lips down my throat. Why is she taking this long? Ring the doorbell again. Okay, now I hear shuffling. She hates walking without wearing slippers. Remember what we practiced, best behavior.
Heeeeeeey Siz, come give your brother a hug. Is this how you treat your bro who you haven't seen in a while? This is Elsa, my fiance. You didn't know I was dating? Waaaaaaah pole! I must have forgotten to tell you. What are you laughing about? I wasn't hiding her. Babe was I hiding you? Why are you agreeing with her? Unam-encourage. Kwanza, si you put these suitcases in the bedroom. Ati which bedroom? My bedroom of course. Mum told you what? Ati we can't share a bed? Aki mum! But what if we tell mum we will share my bedroom but Elsa sleeps on the floor? Babe, I'm joking, of course, you can't sleep on the floor. Ni sawa Siz, just put her bags in your room. Then, si you knock on mathe's door you tell her we're here. Ooooh she's awake? Is that her?
Babe, akikam simama umsalimie. Sawa?
Hi Ma, yes I've missed you too. Nairobi hakunyeshi aki. Nakula mum, sinyimwi food. Hata nimemleta ndio akuambie kwanini nakonda. I do the introduction? Anaitwa Elsa. Babe, this is mum. Mum…babe

92.
I helped a woman cheat on her husband once. I won't lie, it was exciting. Having her right leg curl into mine as they talked about raising kids together on the phone. Then it broke me. In my mind, I was always the hero in the story. The guy who traveled from Mombasa to Marsabit to meet the girl. Instead, there I was, bare-chested on a mattress he bought. Praying that he never got the urge to visit her on campus.
She called me today. They are getting married. Yes, they have 1 kid already. A girl. She called her Mukami. I love it, the name.
In another life, that would have been our kid.
She knows she doesn't deserve it. Especially not after how she ended it with us. But could she see me one more time before Saturday? She can't see me once she's married, she'll feel really guilty.
"Could I maybe come to her place?" He isn't around. I said no. This isn't right. She should not be doing this. I won't be a party to lies and cheating. There's no way I am sleeping with another man's woman in his bed.
So she came to my place.
93.
I grew up listening to James Blunt. I'd run off after school, turn on the TV, take off my school clothes. Sit on the couch directly in front of the TV, cross my fingers and wait.
Then it would come, the song.
"Goodbye my lover, goodbye my friend."
It got me hoping and praying for old age. So that I could fall for some girl. Move-in with her. Get cheated on. Forgive her. Get cheated on again. She'd come over to our house. I'd hope that she wanted to make up again. Instead, she'd fuck me, then tell me I was too good for her. It really wasn't me, it was her. I'd walk her to the train station at Makadara. And cry a little bit, as the train took her away from me.
I grew up. And Nairobi love tastes different. Like baggage. Like fighting 17 exes she hasn't really broken up with. And the new men she meets every Friday at the club. The arguments as to who is right and who is wrong. A constant barrage of hard knocks at the door of our supposed love. Enough to make a man give up. Every time I have to break up with another girl. Another James classic comes to me again….
"But its time to face the truth. I will never be with you."
94.
We are at Kamakis, I'm seated 7 inches from the man barbecuing the meat. Every time he flips a chicken's thighs, the juices splatter onto my face. I love it.
The DJ is on a roll today, the playlist shuffling between Samidow and Salim Junior. Presently he is playing John De'Mathew's "Nengereria Kane" a greek love song. All the men respond to it, hugging their bottle of vodka closer.
The music goes quiet and a watchman gets on the microphone;
"KCR 223J Toyota Berta, kama ni wewe uko na KCR …"
The rest is buried under a shout from the drunkards!
"Wewe kwenda huko!"
"Shaitani, unasimamisha mziki juu ya kaBelta, toka hapa!"
We all cheer. Loudly. Forgive us, in this crowd a Belta is simply a motorbike with a body. If they need it moved, they should simply roll it over.
I'm waiting for Karimi, that short, light girl I told you about. I didn't? Sorry. I've been thinking about her all week. I know, I know. A man should never admit to being obsessed with a girl. But wait until you see her. I have even asked the waiter to bring in a bigger chair. Because when she sits, her ass runs off in every direction. You have to have waiters surrounding the chair ready to catch it.
Here she is, quiet.
Let me wave so that she sees me. Look. Look at the way she smiles when she sees me. Ghai! Let me hug her. Weeeeh! That's a tight one. Oh she doesn't want to let go just yet. Muturi the barbecuist is salivating. Satan!
She is telling me she missed me. I missed you too Karimi. Nooooo, which other girl? You are the only one. Hahahhaa, that's why I'm here on a Sunday with you. You aren't feeling like eating here? Ni sawa. Yes, I can get take away. Where do you want to go? Ooh mimi niamue. Sawa. There's a kanice hotel near here. What do you say…"njoe rumu?"
She laughs. And it feels like 17,000 droplets of rain hitting a tin roof.
95.
We met on a dance floor in Nanyuki.
In a poorly lit club, some meters away from Joskaki Hotel and Accommodation. I was holding onto a beer with one hand while simultaneously using my other hand to guide another lady's posterior as we whiled the night away. She was wearing a silver dress. She had accessorized it with the most beautiful black shoulders. They were inviting. Calling to me. Gently. "Daddy come, lick the lotion off of us." I didn't. I was a baby faced second year in college. So young that you could still smell baby powder, HELB and my mother's kisses on my neck. She was older. And my courage had yet to check-in.
We met again that night. Me, in a drunken haze. Working hard to get drunk enough to stop thinking of a girl I had broken up with. Her, working hard to keep away all the men who were angling towards her ass. We said hello, I blushed kidogo. Simply because she laughed at all the silly things I said. She liked me. We danced a bit, kissed some more, and then I ran off.
She is traveling next week. London. She asked me not to come to the airport. She doesn't want to have a former boyfriend lingering in her side mirror as she drives off into her future. One filled with East Asian men with jet black hair, who don't believe in closing all their shirt buttons.
I asked her if there was a chance we could do this again when she came back. In 2 or 3 years.
She said no.
96.
"So do you think it gets better from here?"
She takes the blunt from my hand. Plunks it into her mouth and takes a long puff.
She lets the smoke sit in her lungs for a long moment. Then, she exhales.
"Maybe."
She goes back to her blunt. Letting me marinate on what her maybe means. Maybe it gets better, and I get a job. Maybe it gets better and we can finally afford to move in together. Maybe life becomes stable enough that she feels secure enough to get pregnant by me. Maybe we grow up and become proper adults who medicate on prescription drugs instead of weed.
She takes another long drag on the blunt before she hands it over. I take it.
Then she asks, "want to have sex?"
…."Maybe!"
97.
I'm in Watamu. Sleeping in a hotel that has no blankets and the windows don't quite lock. I asked the gentleman taking my money if it was safe. He says the only problem they've had is a springly young man breaking into hotel rooms to watch guests sleep.
"Hana shida huyo, ni tabia tu hana."
As if that is supposed to make me feel any better!
He also advises that I sleep with my clothes on. Is there any other way to sleep? Apparently Nairobians have a terrible habit of sleeping butt naked in coastal hotels.
"Kwa nini sasa?"
"Wan'sema kuna joto!"
They can't yet afford to install fans for now. But he promises they'll have them the next time I come over (he tells that to all the guests).
So here I am struggling not to fall asleep. Worried I'll wake up to a springly Pokomo man in my room admiring the contours of my butt!
98.
Everyone I know is getting pregnant. Even my folks are not too against the idea of a mini-me. Finances be damned. And I'm thinking maybe you and I should try something. No, I don't mean raw sex. Though that's a bonus. But how about we do this? Get pregnant. Wait 9 months then give birth to the kid. Take it around for a spin, and if we still don't like the idea of being parents. We can give it up for adoption. By a white man with a savior complex. Who will YouTube every second of raising a black child. Or if we truly hate being parents, we can drop it off at a church. With a cheque. And instructions for how we want her to be raised. As a catholic, until she turns 18. Then she can receive another letter with instructions on how to find us.
Babe, do you think she will understand? I think so. She will love us. She will know we were not the kind of people who ooooed and aaaaahd at children with spittle on their mouths. Maybe she will even throw us a party, honoring our bravery. She will love us. Babe, what do you think? She will love us…yes?
99.
My favorite part of the weekend is Sunday. 9:45 pm in the evening. When we've shoved the kid into bed and it's us. Alone. We turn off all the lights in the house. Darkness. Until, the only visible objects are the contours of your body as you meander through the bathroom finding your soaps, the shampoo and that dreadful combination of coconut oil and cocoa butter you love. You ask me to play something nice. I play Wahu's "Sweet Love." And for the next 3 minutes, I get to hear why you were your high school's choirmaster. When that ends, I change it up. I play Phyllis Mbuthia's "Githi tiwe Ngai." And somehow a lakeside girl sings to that too. Enunciating the words as if you were raised with me in a village in Gatundu. You come out of the bathroom. And instead of toweling off you rush into bed. Drying yourself on me. Until I too smell like coconut oil and patchouli-scented shampoo. Somehow my boxers get lost in the mix of blankets, bedsheets, limbs, fluids, and lips. Forgive me. I have always been careless.
Look, I found a little part of me in you. Oooh you want me to put it back in? Oookay!

100.
The countdown to falling asleep has began. T-minus, 25 minutes.
You are rushing everywhere trying to get everything ready for tomorrow.
"Can I help?"
You tell me no. You'd rather I spent that time sending out job applications. You catch yourself, you did not mean it like that.
Si I understand? Of course I do.
You go back to your preparations.
T-minus, 15 minutes.
You're shoving papers into your briefcase. There's some you've forgotten on the dressing table. You shove them into the case.
"Are you carrying your laptop tomorrow?"
You are. You need it for a presentation.
T-minus, 10 minutes.
You're in the closet now. Pulling out tomorrow's outfit. You pull out the black jeans that make your waist look smaller. You'll pair it with the red cashmere top that makes your breasts pop. Instead of turning around and asking me if they go together, you place the outfit on the chair beside the closet. I am unnecessary. In this decision, and the many more you will make between now and next Sunday. An empty body, taking up space that the man of your life should be using.
T-minus, 5 minutes.
Everything is ready. You come to bed. You do ask me to sleep well. But you remember to ask me to take the trash out. I promise I will.
"Wacha tutaona!" Then you turn off the lights.
T-minus, 0 minutes. You fall asleep.
101.
Bad people have been telling lies Nyar'Nam.
That jo'rabuon do not know how to toast lakeside babes. That we do not know Java. We cannot tell the difference between Americano and an extra frothy Malindi Machiatto with honey not sugar as a sweetener. A particularly evil man went so far as to say that we do not know how to eat our women properly. We are too preoccupied with making sure that the rorry filled with cabbages from Kinangop makes it to Marikiti.
But you, you know the truth. Tell them. Yes tell them. Did I not adequately date you before you became mine? Do you remember it? I picked you up from your place in Juja. With my mzee's pick up. We drove off towards Thika, stopped at Kabati for pineapples. Sped off towards Murang'a but at Kenol we branched off the A2. I parked the car next to Bombay Inn! All the butchers came towards you bearing gifts. Small, small chunks of the meatist meats! Taste this Nyar'Alego, they begged. Kikuyu meat. You refused to taste it. After all, you had tasted more than your fair share of mountain meat hehehe.
We entered the restaurant (we call it "mukawa" in Greek). You asked for menu. And they gave you a verbal accounting of what was available. You asked for ugali, I insisted they bring you mukimo. You begged for fish, but they brought the hindquarters of a pig. You forgave me. Later on I tried to drop you home. But my mzee's pick up veered off the road and into my house. You left 2 hours later in an Uber. Funny isn't it, a year later when I'm sucking on my fingers. They still taste like you!
Hello,
All images are courtesy of Pexels.com; others I found on the darkest corners of the interwebs.
Check out my social media. I post a short, short story every other day.
Header Image Courtesy: Omotayo Tajudeen